"How to" Lessons in Leadership
LEADERSHIP & MANAGEMENT
(Formation Flying)
Vision without Action is a daydream.
Acton without Vision is a nightmare.
– Japanese Proverb
Leadership is a 'can-do',
'get-it-done',
'everyone-pull-together',
'whatever-it- takes' attitude.
– Orville Schell
Giving homage to the thousands of books on management techniques I still claim that Leadership and Management are more 'art than science'—although techniques can be learned.  Effective techniques must accommodate culture and environment.  Measuring and monitoring what is actually occurring with management interventions must be on-going.  Timely decisiveness is crucial to effective management and leadership.  We must learn to take advantage of current fortune and be alert not to relax or under-invest in developing future options.
Always have a 'back-up' plan.
Always have an 'exit strategy'.
Always have an alternative airfield.
Always start your Plan with  4W + H:
– What?
– Who?
– Where?
– Why?
– How?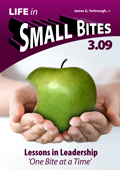 Note: The Small Bites of Wisdom are included in every "How To…" manual. The whole compilation is available through Amazon. If you order the 'print' version, a valuable bed-side resource, the 'Kindle' version is only $0.99. http://amzn.to/1TJ94b1