"How to" Lessons in Courage
COURAGE
(Tailwind)
Courage and Success are not fostered from 'Winning' – they are nurtured through the willful acts of 'showing-up' and playing with passion.
– Dad
Courage is an essential ingredient in Success and personal development. The absence of Courage results in many missed opportunities and too many painful ones.  Although Courage can be learned, it is not learned from another.  It something you discover from within yourself.  Discovering for oneself what is needed or wanted is more important than the potential feeling of failure.
Courage refrains from taking foolish risks with safety or resources.  Courage is not 'jumping without looking'.  A pilot's adage is,
There are old pilots and there are bold pilots but there are no old bold pilots.
Real boldness and courage require careful analysis of the situation, reviewing your options, and selecting those that serve you best.  Goethe preached,
(real) Boldness has Genius, Power, and Magic in it.
Courage often requires corralling one's inner demons and initially pretending that you are 'courageous'.  Like any skill, courage gets better with practice.  Your courage muscles get 'pumped-up' by exercising them.
Courage is an Attitude.  Select your attitudes and relationships that serve you best.  Pick those that you 'hang with' carefully.  It has be said that, "If you always live with those that are lame, you yourself will learn to limp."   Conversely, if you are soaring with the eagles you probably won't learn to 'quack'.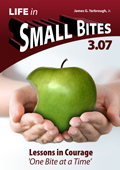 Note: The Small Bites of Wisdom are included in every "How To…" manual. The whole compilation is available through Amazon. If you order the 'print' version, a valuable bed-side resource, the 'Kindle' version is only $0.99. http://amzn.to/1TJ94b1